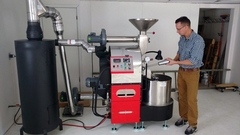 Plover's Mission Coffee House will will soon be roasting its own coffee beans.
The business opened in spring of 2015 and, aside from some traffic interruption during the DOT's Bus. 51 expansion project, business has been good.
Owner of the Mission Coffee Russ Ehlinger said the business is now expanding. Ehlinger recently rented a small building next to the Mission, and is renovating the space into a roasting house for Fair Trade organic coffee beans.
"Once we produce our flavors we want, we will only use coffee beans that we blend and roast," Ehlinger said, adding he also plans to sell the coffee retail, and distribute the brand to other local businesses.
"Once the roasting process starts, they will be able to fine tune the taste and flavors," he added.
Ehlinger said his head barista, Ben Hall, will be in charge of creating the blends and operating the roasting facility.
"Our goals are to empower others to start coffee shops," Hall said. "We want to franchise the coffee to other shops, along with wholesale and retail customers."
Under the company's motto of "Coffee, Community and Connection," Ehlinger plans to donate a percentage of profits from the new blends in some way back to the community, but he's unsure exactly how yet.
The coffee house menu continues to a variety of wraps, soups, salads, bagels, ice cream and muffins. Customers buying lunch throughout the month of January also receive a free scoop of ice cream.
The coffeehouse is open 7 AM to 9 PM during the week and 8 AM to 9 PM on Saturday. The business is closed Sunday.
For information, or to rent the new roasting house, email [email protected] or call (715) 544-0730.